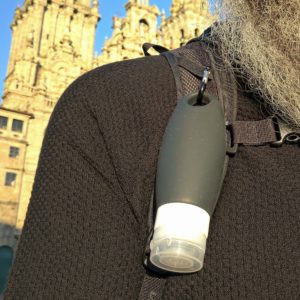 What is referred to as the New Normality, or returning to New Normal, means that everything is opening up again and we have to go back to usual life with some new safety precautions. And for me that means adding a little to the Packing List. Here are my suggestions:
Masks (required)
Masks are required whenever you cannot maintain social distancing measures of 2 meters indoors and outdoors. Indoors it is also required for check-ins at albergues and hotels and in common areas, in supermarkets, public transport, pharmacies, bars, restaurants, airports, shops etc. You will be fined if you do not follow this rule. Masks can be purchased at all pharmacies along the way, so you do not have to bring enough for your full journey. You can also wash and rewear a fabric mask in lieu of a medical one.
Hand Sanitizer (recommended)
Hand Sanitizer is everywhere at the entrance to supermarkets, bars, restaurants, pharmacies, and shops…but only at the entrance and not the exit. I recommend bringing your own small, refillable tube with a carabiner to have at hand to ensure you are not taking germs with you. Hand Sanitizer can also be purchased at all pharmacies and some markets along the way.
Sleeping Bag (required)
You are required to bring your own sleeping bag. Blankets are no longer provided by albergues.
Sleeping Pad (recommended)
When I walked my first Camino in 2005, everyone had a sleeping pad just in case albergues were full or you were caught in unforeseen circumstances.
Contactless Credit/Debit Card (recommended)
Most places along the Caminos have Contactless Credit/Debit Card machines now to reduce the spread of germs. And will be the preferred way to receive payments. Having cash with you will probably still be a good idea.

These New Normal suggestions are added to the Ultra Light Camino Packing List.